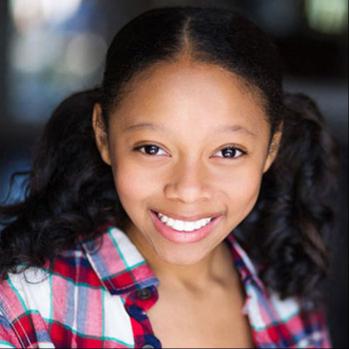 Marsaille
Marsaille is an adventurous teen with a BIG personality, and a plethora of gifts. She's a singer, actor, writer, dancer and model. She loves writing songs about her colorful life - songs that tell a story and paint images of fantasy, fairies and beautiful things. Marsaille is an old soul who writes with a fervor, passion and wisdom of a girl five times her age. When she picks up a pen to write, it flows easily out of her and you know she's found her calling.
At the age of 10, Marsaille had the opportunity to travel and perform, "Jesus Loves Me", to stadiums of up to 10,000 women on the Women of Faith Final Tour (William Morris). Her rendition of the song moved women to tears because of her depth and raw emotion.
Marsaille is uber hardworking and excels in everything she does. Recently, she landed a Pizza Hut national commercial, a Sunsosi national print ad, a pilot with SoulPancake, and taped three episodes of her own TV show entitled, Travel with Marsaille, to air on her own streaming network on Roku, AppleTV, AndroidTV and FireTV.
She is the granddaughter of Thelma Wells (aka Mama T) and the daughter of BEE TV Network Owner, Vikki Wells. You can find out more about Marsaille on her website at www.marsaille.me and follow her on:
Twitter, Facebook and Instagram @MarsailleWells
You can see her dance on TikTok @Marsailleslife
Follow her music on Spotify, Deezer, Apple Music and of course, Babbie Mason Radio.
Listen to her NEW single, "Shine On Butterfly."
Website
Instagram
YouTube
Twitter


To every little girl and every little boy, stay true to your dreams.
Shine On Butterfly
Marsaille's "Shine On Butterfly" is featured on Babbie Mason Radio's The SHOUT Project.