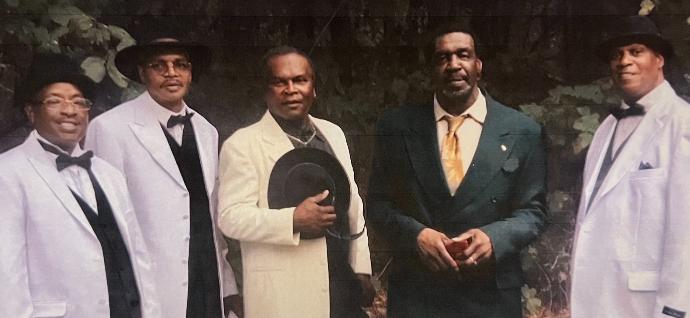 Men Passing Through

As the group progressed, the men befriended Ernest Willingham, who opened up his home to the men allowing them a space to freely rehearse and write music. With a new place to perfect their craft, Men Passing Through finally felt as though they could come into their own. Every Saturday at 5:00pm, they would practice and fellowship together as a team.
Ernest introduced Oscar Richardson, a fellow singer and musician who then expressed an interest in joining the group. Followed by Oscar, the late Lanarius Dupree Sr. and Willie Stephens joined. Following all the new member additions, the men decided upon the name "Men Passing Through" because it perfectly described how their group came to be. Not only are the men a gospel musical group, but they are a tight-knit gospel family. Together, they have accomplished a myriad of goals. On October 13th, 2018, Men Passing Through was awarded a Certificate from The International Gospel Announcers Guild. Out of all the amazing artists and groups of the day, they felt extremely blessed to have won a prestigious award during the two-day convention. God confirmed that with hard work and faith, Men Passing Through can accomplish great things in His name.
As a musical group and men of God, Men Passing Through are driven by their desire to spread the love of Jesus through messages, songs, and with the gifts and talents God has blessed them with. "We're on a mission to celebrate Jesus and show how much He has blessed us all. All honor and praise be to God who is the Author of our faith, Amen."
Facebook


All the gifts and the blessings and the music He's given me is the love of Jesus. It's the love that He's given me and the whole world.
The Love of Jesus

Men Passing Through's "The Love of Jesus" is featured on Babbie Mason Radio. Listen to the story behind the music and how their group came to be only on Babbie's House On The Radio.