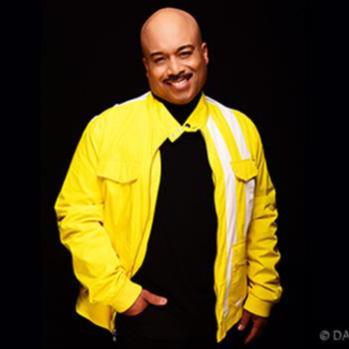 Raleigh Hall
Raleigh Hall, also known as Raleighall, is an American songwriter and producer, born in Jamaica, Queens. His parents, Raleigh & Marge Hall, were a drummer and dancer respectively with Bernice Johnson Dance Company and Chuck Davis. They got the opportunity to work with artists such as Lola Falana, Lester Wilson and James Brown. Following suit, Raleigh has performed on New York stages of BAM, the Apollo Theater, and the Beacon Theater as a drummer, dancer, and singer.
In 1983, Raleigh received a call from Harry Belafonte to work on the movie soundtrack of Beat Street. Hard work with church choirs and local bands opened up doors for him. Hall has vast studio experience, having recorded with Johnathan Butler, Vernessa Bell Armstrong, Noel Pointer, Clinton Utterbach, RW Shambach, and Annie Lenox.
After years of songwriting, EMI Publishing took notice of Raleigh's song "Have Thine Own Way" co-written with Connor Alexander featuring their group, INFLYTE with Hezekiah Walker and The Love Fellowship Choir. With this song, he won the John Lennon Songwriting Contest in the Inspirational category. The song gained international success, and Hall was introduced to Barry D., a USA songwriting contest winner. Hall and Barry composed a song, entitled "Keep Holding On", which was chosen to be an anthem of the 2000 Olympic Games Commission in Australia. Raleigh Hall pursued more publishing opportunities and landed a place on Marvin Sapp's album, I Believe, with the song entitled "Follow Me". With the help of his agent, Everton Bailey, Raleigh met Gordon Chambers, a Platinum Grammy award-winning songwriter. Their collaboration resulted in the song "More", featuring Ian Holmes, an American Idol finalist. "More" won the 2010 Song of the Year Gospel/Inspirational category by the USA Songwriting Organization.
Raleigh Hall has also written jingles, source music, songs for TV shows, advertisements, civic organizations, and radio stations. He also worked for BMI gospel marketing and promotions' New York regional manager. The experience helped Hall become well acquainted with what makes the greatest hits and the worst industry flops. In 2017, Raleighall signed with RJC/Sony and wrote a number of songs on their compilations. Raleigh proceeded to write and produce with Babbie Mason's Inner Circle, Mel Holder, Dixon Morisseau, Shawn V. Lucas, Dinky Bingham, David Bratton, Gordon Chambers, Loris Holland, Jules Bartholomew, and the Full Circle Music Academy.
Hall is now the owner and CEO of Hallmarx Music Incorporated, a music production, publishing house, and record label. Hallmarx Music operates with a team of Platinum recording, Grammy and Stella nominated, Emmy Award-winning Songwriters & Producers. In 2020, HMI signed artist Antoine Hilton launching his single "No More Lonely Days", and introducing his 2020 album entitled HeClectic.
Celebrating two decades of producing great music, Raleigh brands a signature of timeless song composition and production that cultivates a world community of hope and encouragement.
Website
Facebook
YouTube


The discomfort of your obedience is better than experiencing the discomfort of your disobedience.
Love God
Raleigh Hall's "Love God, Love People" is featured on Babbie Mason Radio's The SHOUT Project.